US smartphone market is expected to grow only 2% YoY in 2022 due to Inflation
The US smartphone market is expected to settle into a flat growth path with a modest 2% increase in smartphone demands, as per a report. The latest forecast has been adjusted downward from the prior estimate of 6% YoY growth in 2022 because inflationary pressures will likely decrease demand in the upcoming quarters
According to a report by Counterpoint Research, the US smartphone market is expected to witness a 2% growth this year. Counterpoint says that it has significantly reduced its forecast for 2022 from the previous projection of 6% percent growth as the demand will be suppressed in the remaining quarters due to inflationary pressures. However, there are several scheduled industry events for 2022 that will boost low-end smartphone sales. As 3G networks become obsolete, carriers will be forced to migrate subscribers to new LTE and 5G devices.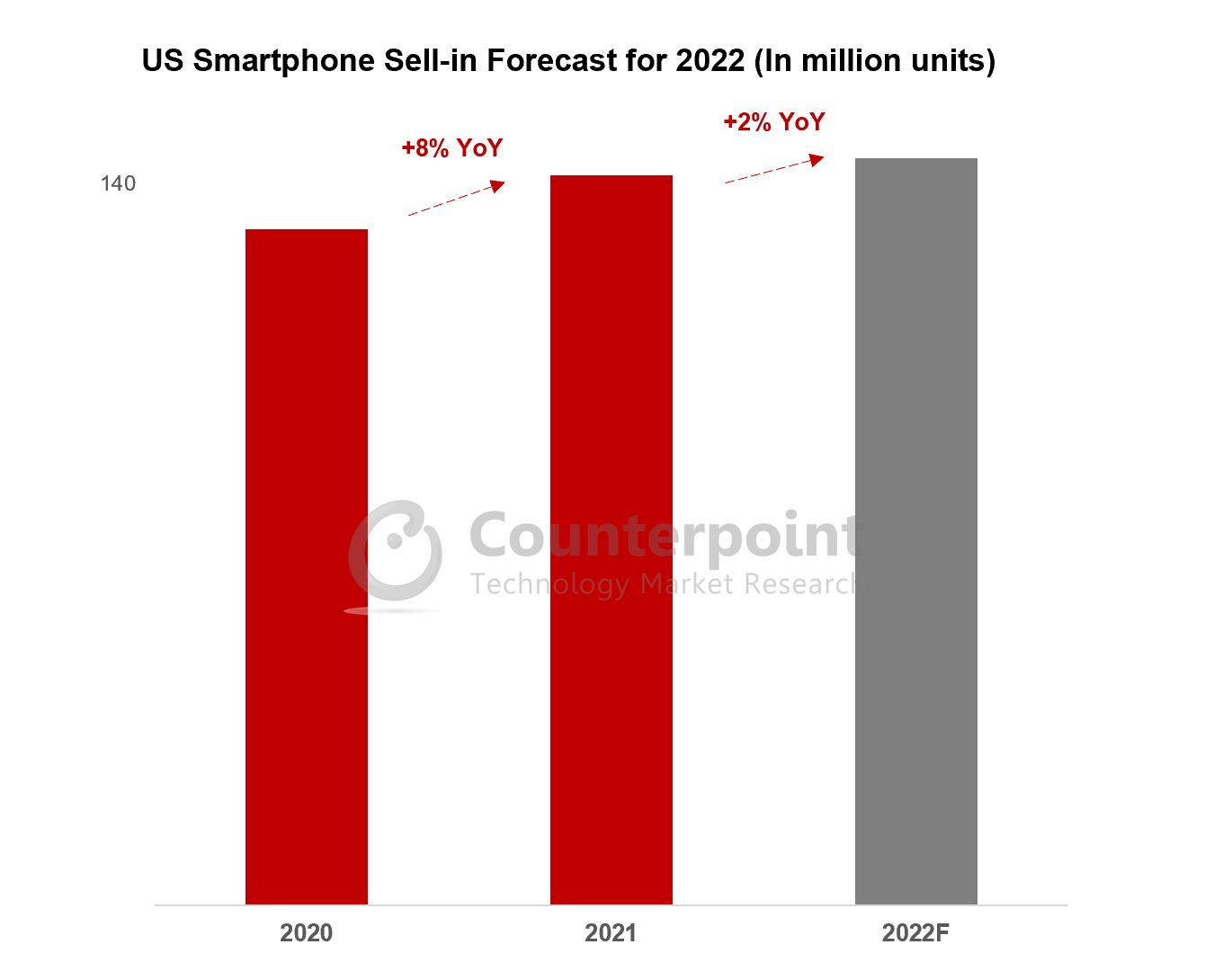 "We began the year with strong sell-in momentum, with Q1 2022 seeing 6% YoY growth due to solid postpaid demand. However, we are adjusting our shipment forecast numbers downwards as we are increasingly seeing the impact of inflation in the US market," said Research Director Jeff Fieldhack. "Last year, we saw supply as a much bigger issue as chipset shortages impacted smartphone manufacturing", Fieldhack added.
The flat growth is attributed to demand issues. Americans' purchasing habits have shifted away from technology products to experiences such as vacations and outings. Furthermore, as fuel prices rise owing to inflation, people are making fewer excursions to retailers and altering their spending behavior even more, says the report.
"Prepaid sales will be most affected by weak demand as this is the most price-sensitive segment in the US," said Senior Research Analyst Maurice Klaehne. "This is also where any price increases for devices will be most heavily felt by consumers. We see national retailers feeling the impact of inflation, but it is more of a mixed bag. Walmart, a one-stop shop for groceries, tech products and much more, may be less impacted compared to Best-Buy, which is a very specialized tech retail store," Klaehne further added. Gizmochina