While the first quarter of this financial year has been majorly impacted because of the Covid-19 pandemic, the consumer durables category is hopeful of getting ahead over last year's growth in the upcoming festive season.
The pandemic has led to a slowdown for the industry but the festive season is a time when people's spirits are uplifted.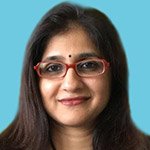 Priti Murthy
Priti Murthy, CEO at OMD India, said consumer sentiments are seeing a positive turn.
She said, "With people gradually settling into the 'new normal' and e-commerce bouncing back, shopping options have become easier to access. It's clear from our study at OMD that despite the current situation, consumer sentiments are likely to improve. Consumer durables, real estate and FMCG categories are expected to see some growth. As for tech, there is a clear digital boom, with OTT platforms especially showing promise. Auto, in fact, is already showing a growth trend, largely because personal mobility has become a top priority for commuters in the pandemic situation."
Vijay Babu
Vijay Babu, VP (Home Appliances) at LG Electronics India, said the company achieved 30% sales last year during the festive season and is expecting more than 30% growth this time.
"With an increase in demand and curiosity for home appliances, this year our primary focus has been on home appliances with health and hygiene benefits. Sales were partially affected for LG Home Appliances in the lockdown. However, the pent-up demand, especially for appliances, during unlock had been phenomenal to more than compensate for the same," he added.
Shirish Agarwal
With the ease in lockdown restrictions, Shirish Agarwal, Brand and Marketing Head, Panasonic India, said that he is seeing encouraging signs of recovery in the consumer durable industry and is hoping for the festive season to bring in cheers.
"Positive sentiments such as a favourable monsoon, the onset of the festive season, a rise in first-time buyers from the rural markets, and the need to upgrade lifestyle, primarily due to WFH, have led to an uptick in our home appliances segment," he added.
Confined within homes in the past few months, consumers now have a heightened sense of respect for their home appliances. This has led to a conversion of latent demands into needs.
Consumers are now seeking for home automation upgrades and are willing to invest in technologically advanced appliances that are easy to use, connected (enabling them to multi-task), and are energy efficient.
Nilesh Shah
Nilesh Shah, Head of Business Planning and Marketing, Johnson Controls-Hitachi Air Conditioning India, believes that brands can now hope for a good sales recovery.
"We are expecting consumer sentiments to improve with the festive season. Consumers are now gearing up for festive offers. They aren't planning to splurge but will still spend money during the festive season," he said.
Sachin Bhalla
"The growth expectations are very uncertain but we are hopeful of getting ahead over last year's growth in the festive season. We are working on new product launches ahead of the festive season and will explore brand promotion around the same time," said Sachin Bhalla, Sr. Vice-President, Marketing, Luminous Power Technologies.
The Voltas spokesperson said the consumer durables market is slowly returning towards normalcy and there is a strong demand for convenience-based products. Due to the gap in consumption during peak lockdown, the company too is expecting pent-up demand to be high in the festival season.
Rohit Malkani
Rohit Malkani, Vice-President, Marketing, Crompton Greaves Consumer Electrical said rural India is picking up faster than the urban markets.
He said, "We are witnessing more sales via e-commerce, Bharat growing faster than the metros. And with lockdowns getting lifted, there is some optimism that we have been witnessing in pockets."
Adex revival in slow lane
Shah said that the consumer is spending most of the time staying at home, pushing growth of TV ratings. In the existing situation, digital and TV are leading the adex.
The festive period accounts for between 30 and 40% of the total advertising spends for the year across categories.
Although there is some slowdown in hard-hit sectors such as hospitality, retail, auto and other consumer categories; e-commerce and lifestyle products are going to spend heavily during the festive season, said Shah.
This quarter is also the biggest opportunity for various other categories to revive sales and bring back consumer confidence.
Hence, he said brands will leverage various advertising channels in the best possible manner to encash this opportunity. Overall, there will not be a huge slowdown of ad spends during this festive season.
However, Bhalla said that the ad spends are expected to be sluggish in this festive season.
"Owing to the pandemic and the subsequent nationwide lockdown, the companies haven't generated the expected profits in H1 and, therefore, allocation towards ads will be impacted," he said.
Safety is an essential concern for all, and the 'touch and feel' part in the consumer-buying process has reduced significantly at this juncture.
Henceforth, Babu said customer engagements through digital platforms have become the norm to communicate key messages.  "Digital will attract major chunk of the spends this year. Print and TV spends will take a backseat this year," he said.
For LG Electronics, its social media channels and website have been the biggest platforms for itself to communicate to its audience, where it has been posting DIY videos for repairing gadgets as well as options for pre-booking products and various other offers like health insurance.  In fact, digital is going to be the key focus media for the company in this season.
The rise in screen time has made digital the preferred medium for consumers, followed by TV and print, said Agarwal.
Panasonic has opted for an intelligent marketing mix for adex with digital playing a key role – as it aids in performance marketing. Through digital, it is connecting proactively with its consumers and through TV it is penetrating the rural markets, which is helping in brand recall and visibility. It has introduced various localised, vernacular initiatives for a better brand connect. It is also planning hyper-local/geo-targeting digital campaigns with localised content to extend impactful experiences.
Hitachi's marketing will focus on creating disruptive digital IPs to easily connect with the consumer.
Shah said, "Brands are now going to deal with the consumer of a new informed world. They are definitely going to transform their media mix for this informed consumer. With the sudden spike in news watching and entertainment on TV, consumers are spending a lot of time in front of TV screens. TV advertising with a focus on new entertainment and infotainment avenues along with digital platforms is going to be a safe bet for brands in the near future. With print ads and on-ground marketing initiatives such as outdoor, B2B events, channel partner meets, etc., witnessing a slowdown, TV and digital advertisements will register high growth trajectory in our category."
With the retail partners focusing more on digital mediums, Bhalla too agreed that the focus on the medium will be more.
However, Murthy said that digital and print generally do witness a clutter in the festive period. OTT will be the new area where an increasing number of brands will invest. And considering the coinciding of IPL and festive period, TV is set to see a rise as well.
For IPL, Bhalla said the event has the potential to significantly draw advertising away from other programmes and channels but the opportunities would depend on IPL pricing.
While IPL enjoys a great viewership, brands feel it will not sabotage the interest of those advertising on networks that are not telecasting the league.
The IPL is happening during the festive season but the event is not in India, so it might have less impact on brands that used to participate in on-ground promotions, said Shah.
"But for TV broadcasters, it will certainly generate a good amount of viewership. September not being peak season for compressor products, AC brands may not be active in IPL this year but FMCG and other durable brands may continue their association and leverage their reach," he said.  –Best Media Info