The consumer sector in India is grappling with a slowdown that's evident from the recent commentary by industry leaders in the fast moving consumer goods (FMCG), consumer staples, consumer durables/ appliances/ electronics, hotels and restaurants segment. While businesses have registered positive revenues, it is still not good enough to have a trickle-down effect on the ground and kick-start the virtuous circle of growth.
According to Arvind Mediratta, managing director and chief executive officer, Metro Cash & Carry India, reviving economic growth, boosting consumption and building momentum for investment are some of the key priorities for the new government in the upcoming Budget 2019.
"There is a need to simplify Goods and Services Tax (GST) for ease of doing business for small traders and small and medium enterprises (SMEs). Hiking the exemption limit for GST from Rs 40 lakh to Rs 1 crore can be considered as well. Introduction of loan facilities for the informal sector will boost entrepreneurship. The government should also look at re-introducing input tax credit (ITC) for the restaurant industry while reducing the number of licenses required for operating small hotels, restaurants and eateries. Outlining bolder labour reforms would go a long way in boosting employment opportunities," said Mediratta.
While consumers are feeling the pinch of inflationary market conditions there is also a serious liquidity crunch in the market. "Its impact was first witnessed on discretionary spends but consumers are now cutting down on their regular daily needs. Also, certain packaged foods are on the higher slab of GST and that's a concern for the industry. We hope the government takes required measures to resolve these issues and get consumer spending back on track," said Sahil Gilani, director – sales and marketing, Gits Food.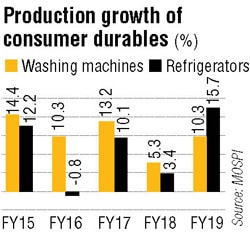 The slowdown in consumption growth in the recent quarter was amplified by the liquidity crunch in trade and low rural income. Piyush Patnaik, managing director, Cargill's oils business in India, said, "The Budget should introduce policies that will address rural income, help create surplus disposable income, which will help in consumption growth. Boosting rural income has to be a long-term approach and should not be only a quick fix solution. Also, our millennial consumers are very aspirational, seek better employment and easier facilitation for self-employment opportunities. The Budget and policies must focus on all this for sustainable growth," he said.
The sentiment in the consumer electronics, appliances and durables industry isn't any different. The sector, according to Kamal Nandi, business head and executive vice president, Godrej Appliances, has witnessed low to nil growth in the last three years.
"The penetration level for durables has traditionally been low in India and despite more than five decades, it stands at as low as around 30% for refrigerators (92% in China), around 13% for washing machines (88% in China) and 60% for televisions (95% in China). The revival of growth, therefore, is the biggest expectation that industry has from the government," said Nandi who is also the president of Consumer Electronics and Appliances Manufacturers Association (CEAMA).

Considering there is no ecosystem for local manufacturing of Open Cell in India, the consumer electronics and appliances players are seeking a reduction in customs duty on it from 5% to 0%. In fact, CEAMA has already submitted a plan for phased manufacturing of televisions (TVs) and its sub-parts to the government in 2018 to encourage local and end to end manufacturing of TVs in the country.
Citing quick implementation of phase manufacturing programme (PMP) as the need of the hour, the industry players have also recommended implementing a PMP for components of air conditioners as many of its key inputs – especially compressors – are imported. Lowering GST rates for key consumer products like air conditioners and TV above 32 inches (all sizes) from 28% to 18% will boost the sector while also creating more employment opportunities.
Gurmeet Singh, chairman and managing director, Johnson Controls-Hitachi Air Conditioning India Ltd, said, "Continuation of steps taken for the indigenisation of the appliance and consumer electronics (ACE) industry with a focus on domestic manufacturing, creating better employment opportunities and rural growth will be crucial. Additionally, the government needs to take steps towards strengthening MSME sectors that has a big role in our sales, logistics, services and vendor network."―DNA India